U.S. Army teaching soldiers how to operate FIM-92 in nearly 15 years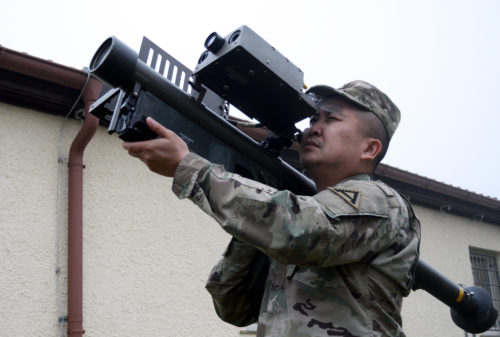 The U.S. Army has recognized a need to train soldiers on how to operate the FIM-92 Man-Portable Air-Defense System (MANPADS) and approximately 50 observer coach trainers (OCT's) attended their own training on the Stinger system at the Hohenfels Training Area, Germany on Jan. 10.
U.S. Army Capt. Richard Tran, an air defense officer, and an observer coach trainer with the Warhog Team, Joint Multinational Readiness Center, trains with an FIM-92 Stinger Man-Portable, Air Defense Missile System at the Hohenfels Training Area, Hohenfels, Germany, Jan. 10, 2018. The training was in preperation of future rotational exercises where the OCT's will start evaluating two-man Stinger Teams for the first time in approximately 15 years. (U.S. Army photo by Staff Sgt. David Overson)
"Bringing back the Stinger addresses a self-identified gap that the Army created and has recognized," said Lt. Col. Aaron Felter, the director of training and doctrine for the Air Defense Integrated Office.
The system is being reintroduced to brigade combat teams across the U.S. Army. and the Chief of Staff of the Army wants units in Europe to be equipped as soon as possible.
Read more here:: Alert5 (Air)