USMC wants ship-based unmanned AEW, EW, ISR platform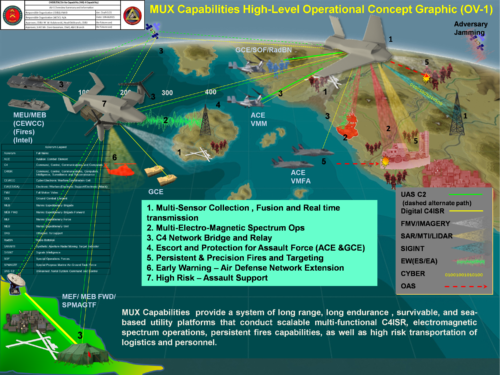 PMA-266 has issued a request for information (RFI) to the industry on behalf of the Marine Air Ground Task Force (MAGTF) Unmanned Aircraft System (UAS) Expeditionary (MUX) project.
Graphic: NAVAIR

The MUX project is seeking a "ship-based, extended range, long endurance, and multi-mission UAS" that "shall complement the long range capabilities of the F-35B/C, CH-53K, MV-22 and Future Vertical Lift FVL)."
The aircraft must be able to "start up, take off from L-Class (Amphibious Class Ships (LHA/LHD, LPD, LX(R), and ESB) ship" while having the same dimensions close to UH-1Y.
Its primary mission are early warning; intelligence, surveillance and reconnaissance; electronic warfare; and communications relay. It should cruise at "200-300 kts with full payload" out to a combat radius between 350-700 nm.
Read more here:: Alert5 (Air)