F-15s at Kadena AB, Japan to resume flying this week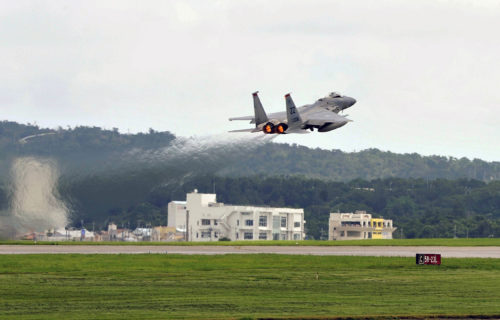 The U.S. Air Force's 18th Wing will lift the ban for F-15 flights this week, after a F-15 crashed on Jun. 11 off Okinawa.
A U.S. Air Force F-15 Eagle assigned to the 67th Fighter Squadron takes off during a training sortie June 7, 2017, at Kadena Air Base, Japan. The Kadena's F-15 Eagles and F-16 Fighting Falcons conduct training missions frequently in order to build strategic partnerships and maintain peace and stability in the Pacific region. (U.S. Air Force photo by Naoto Anazawa)

"Senior, experienced pilots and maintainers have reviewed the initial facts and circumstances of the mishap and are confident that the incident does not indicate a problem with the overall safety of Kadena's F-15 fleet," a press release from the 18th Wing said.
Read more here:: Alert5 (Air)