F-35 vs A-10 CAS fly-off has commenced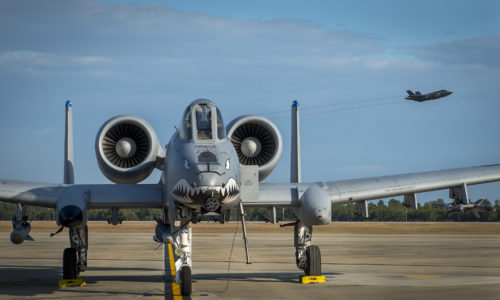 A fly-off between the F-35 and A-10 in the close air support (CAS) role started on Jul. 5 and is expected to end on Jul. 12.
A 33rd Fighter Wing F-35A Lightning II streaks by as a 75th Fighter Squadron A-10 Thunderbolt II undergoes preflight checks prior to a Combat Hammer sortie Nov. 2, at Eglin AFB, Fla. A-10s, F-16s, F-22s and MQ-9s visited the base to participate in the 53rd Wing exercise. The 86th Fighter Weapons Squadron's Combat Hammer is a weapons system evaluation program for air-to-ground munitions. (U.S. Air Force photo/Samuel King Jr.)

A copy of the testing schedule was obtained by the Center for Defense Information at the Project On Government Oversight (POGO).
POGO's review of the testing shows the "tests are hardly representative of the missions a close air support aircraft has to perform" and the scenarios are skewed to favor the F-35.
Read more here:: Alert5 (Air)