USAF security forces learn how to refuel the F-15E while avionics specialists defend the base in new concept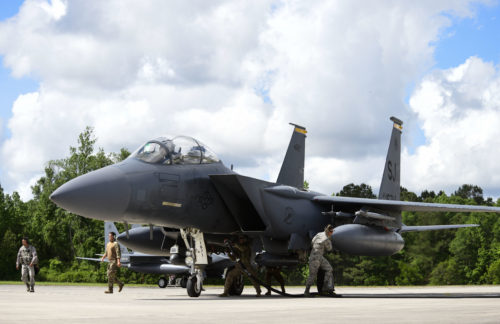 The U.S. Air Force has successfully demonstrated a new Combat Support Wing concept during a recent deployment to Kinston Regional Jetport.
Airmen from multiple Air Force specialty codes perform a hot-pit refuel on an F-15 E Strike Eagle during the Combat Support Wing capstone, May 9, 2019, at Kinston Regional Jetport, North Carolina. A hot-pit is a term used to describe a jet being refueled on the ground while the engines are running. (U.S. Air Force photo by Senior Airman Kenneth Boyton)

F-15Es from the 4th Fighter Wing were refueled and rearmed by three teams of airmen who are from different career fields in the service. Weapons loaders show that they could drive a refueling truck while security forces demonstrate they could refuel the aircraft. Avionics specialists were tasked with base security.
The concept could give the Air Force the ability to rapidly deploy in smaller, more efficient and agile teams to austere and potentially contested areas, the Air Force Installation and Mission Support Center said in its press release.
For more information, hit the Source below
Read more here:: Alert5 (Air)