USAF F-16s getting new water repellent for their canopies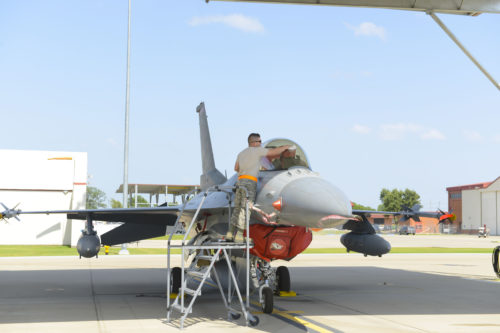 A new water repellent to be applied once a month on the canopy of the F-16 is being rolled out to all U.S. Air Force units.
Staff Sgt. Cody Brown, 138th Maintenance Squadron, polishes the canopy of an F-16 fighter jet as part of the post-flight procedures on July 13, 2016 at the 138th Fighter Wing. The wraparound canopy provides ideal light in-flight and can withstand the impact of a 4 pound bird at 550 knots. (U.S. National Guard photo by Master Sgt. Roberta A. Thompson/Released)

The product, named HydroSkip, improves pilots' visibility during heavy rain by preventing water from pooling or remaining stagnant on the canopy.
For more information, hit the Source below
Read more here:: Alert5 (Air)