VAW-120 takes delivery of its first E-2D fitted with refueling probe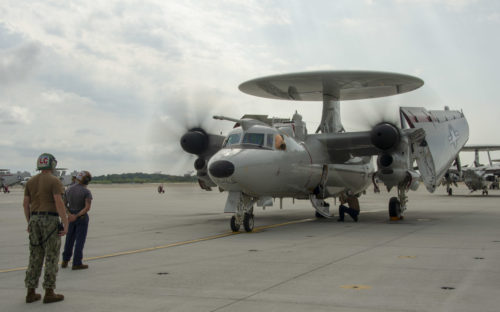 VAW-120 now has an aerial refueling capable E-2D when the first such aircraft arrived at NAS Norfolk Sept. 9.
NORFOLK, Va. (September 9, 2019) – An E-2D Hawkeye being recieved by the "Greyhawks" of Carrier Airborne Early Warning Squadron (VAW) 120 completes landing procedures at Naval Station Norfolk Monday, September 9. This is the first E-2D Hawkeye with aerial refueling capability to join the fleet, increasing the Navy's battlespace awareness and integrated fire control — both from the air and the sea. (U.S. Navy Photo by Mass Communication Specialist 3rd Class Nikita Custer)

Besides VAW-120, the service will transition two operational fleet squadrons to aerial refueling capable E-2Ds by 2020.
VAW-120 is a Fleet Replacement Squadron.
For more information, hit the Source below
Read more here:: Alert5 (Air)