Boeing is proposing two solutions to fix KC-46A cargo restraint issue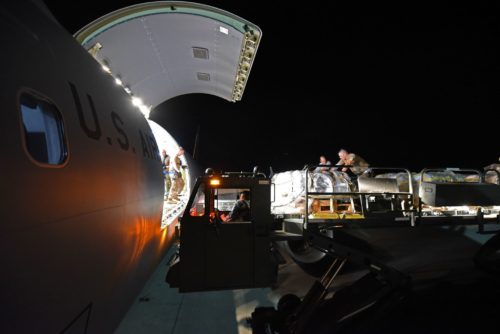 Boeing has come up with a short-term and a long-term solution to get the KC-46A to ferry cargo and personnel.
U.S. Airmen from the 60th Aerial Port Squadron from Travis Air Force Base, California, load cargo onto a McConnell AFB, Kansas, KC-46A Pegasus Aug. 21, 2019. The KC-46's stop at Travis entailed a late-night load-up of life rafts for the U.S. Navy's USS Port Royal among other routine cargo. (U.S. Air Force photo by Senior Airman Christian Conrad)

Air Mobility Command had restricted the aerial refueling tanker from carrying personnel or cargo after several incidents in which cargo locks broke free during flight.
Boeing is suggesting the use of tie-down straps to secure the cargo while it searches for a robust, longer-term fix to prevent the locks from breaking free again.
For more information, hit the Source below
Read more here:: Alert5 (Air)