F-22s from Tyndall AFB are now fully integrated in Alaska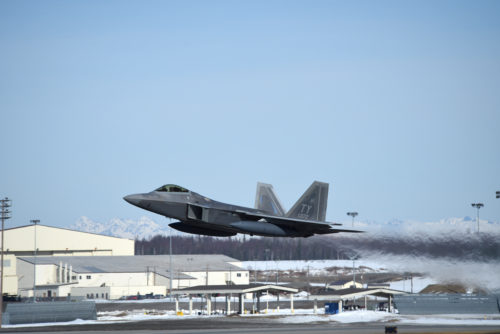 Walk into JB Elmendorf-Richardson, Alaska and you might encounter a F-22 with a TY tail code. Seven of those jets relocated from Tyndall Air Force Base are now fully integrated at the base.
F-22 Raptors from the 3rd Wing and 477th Fighter Group participate in a close formation taxi, known as an Elephant Walk, March 26, 2019, during a Polar Force exercise at Joint Base Elmendorf-Richardson, Alaska. This two-week exercise gives squadrons an opportunity to demonstrate their abilities to forward deploy and deliver overwhelming combat power. (U.S. Air Force photo by Sheila deVera)

Col. Robert Davis, commander of the 3rd Wing at Elmendorf, said six are flying with one in depot maintenance. When they first arrive, some of the jets were damage during Hurricane Michael that struck Tyndall in July.
For more information, hit the Source below
Read more here:: Alert5 (Air)