First USN naval aviator to go straight for CMV-22B training after graduating from flight school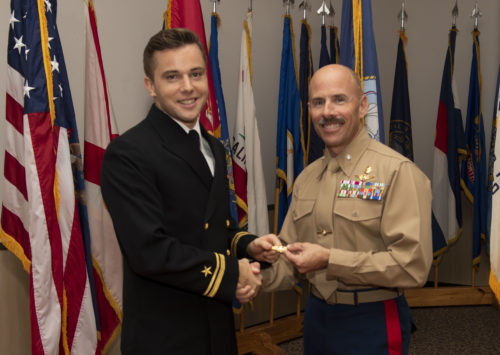 Lt. j.g. Caleb Nicholson has entered history books for becoming the first naval aviator to go for CMV-22B training after earning his wings of gold.
CORPUS CHRISTI, Texas (Dec. 6, 2019) Training Squadron (VT) 35 Commanding Officer Marine Lt. Col. Brian Dennis, right, presents Navy Lt. j.g. Caleb Nicholson his Wings of Gold during a ceremony at Naval Air Station Corpus Christi Dec. 6. Nicholson graduated as a naval aviator after completing undergraduate flight training with VT-35 and will become the Navy's first accession CMV-22B Osprey pilot to enter follow-on training with Marine Medium Lift Tiltrotor Squadron (VMMT) 204 at Marine Corps Air Station New River in Jacksonville, North Carolina. VT-35 is one of two advanced flight training squadrons for multi-engine aircraft and is the only squadron to train future Osprey pilots at the undergraduate level. (U.S. Navy photo by Anne Owens/Released) 191206-N-OT909-1180

He completed flight training with Training Air Wing (TRAWING) 4 at NAS Corpus Christi Dec. 6 and will report to MCAS New River for CMV-22B training with VMMT-204.
For more information, hit the Source below
Read more here:: Alert5 (Air)