New bio-inspired wing design developed for small drones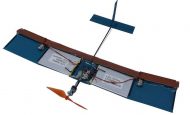 Researchers from Brown University have designed a new type of wing that could make small fixed-wing drones far more stable and efficient.
The new wing replaces the smooth contour found on the leading edges of most airplane wings with a thick flat plate and a sharp leading edge. Counterintuitive as it may seem, it turns out that the design has distinct aerodynamic advantages at the scale of small drones. In a paper published in Science Robotics, the researchers show that the new wing is far more stable than standard wings in the face of sudden wind gusts and other types of turbulence, which often wreak havoc on small aircraft. The wing also provides an aerodynamically efficient flight that translates into better battery life and longer flight times.
"Small drones can be really useful in many applications, including flights in populated areas as they are inherently safer for humans, but there are problems operating aircraft at those small scales," said Kenny Breuer, a professor in Brown's School of Engineering and the study's senior author. "They tend to be inefficient, which limits the battery-powered flight times of most drones to around 30 minutes or so. They also tend to get blown around by puffs of wind and turbulent air coming from obstacles such as buildings and trees. So we've been thinking about a wing design that might combat those problems."
The idea for a wing that dispenses with the smooth contours of a normal wing's leading edge was inspired by natural flyers like birds and insects. A smooth leading edge helps to keep airflow firmly attached to the wing. But bird and insect wings have usually quite rough and sharp leading edges to promote separation of the airflow. Flow separation causes efficiency problems for large aircraft, but it seems to work just fine for birds …read more
Read more here:: Defense Talk (Air)